AWARD WINNING
Evis Impersonator tribute artist
Welcome to Pete Memphis website. Pete is continually told he is one of the best Elvis Impersonators Brisbane and Elvis Impersonators Gold Coast people have seen. Several roles in the ELVIS Movie starring Tom Hanks, directed by Baz Luhrmann. Pete said he was a little flustered with Tom Hanks playing Colonel Parker, came over to talk with him during takes.
Authentic jumpsuits, voice and movements with high end backing tracks. Pete has created incredible professional shows which are spell bound and remembered well into the future. Elvis Impersonators Brisbane, Pete Memphis. or Elvis Impersonators Gold Coast. CALL US.
PETE MEMPHIS ELVIS IMPERSONATOR BRISBANE, GOLD COAST.
Pete Memphis is the" KING" when it comes to Elvis Impersonator Shows. "Refer to Fan talk". Certainly the "KING" of entertainment. He has appeared in newspapers and magazines over 100 times. Scoring FRONT page 14 times but I am sure Pete is not counting. And the only Elvis impersonator in the world who was in the Austin Butler ELVIS movie. Pete does anything from a few songs singing telegram to a two-hour show.
The most requested is his Las Vegas ONE hour show but runs over the hour and involves audience participation. Two ladies selected to dress in Hula skirts and become Elvis's dancers. A fellow selected to assist Elvis singing Viva Las Vegas together with a lady guest dresses up like a Las Vegas show girl. Sadly Covid-19 in 2020 resulted in his band breaking up. BUT. He can still arrange an Elvis show to backing tracks and a duo or band to play before and/or after Pete's show for dancing etc.
Pete can also perform WEDDINGS in the Las Vegas style. Renewal of vows is his specialty. He can perform the ceremony at your 1st wedding but you need an official celebrant to do the paperwork.
Elvis Impersonators Brisbane, Elvis impersonators Gold Coast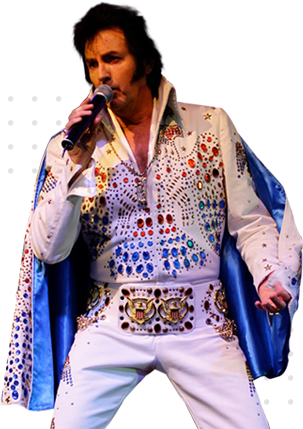 OUR PROVEN TRACK RECORD
Specialises in BIRTHDAY parties at home. Lost count how many.
Movieworld - Gold Coast.
P & O Cruise Ships Show for 5 years.
Bindi Irwin's 13th Birthday party at Australia Zoo. 6000 people.
Opening show for Brian Cadd.
Worked with Frankie J Holden.
Flown all around Australia for large companies events.
Shows at the Brisbane Exhibition Centre.
Sold out shows at several major clubs.
Several years asked to perform at Surfers Paradise festival.
TV Shows: Cash Cab, Ch7, 9, 10 and ABC, Toasted TV, Current Affairs Today Show.
Gives his time to aged care facilities weekly doing shows.
Nominated best Artist and Band Gold Coast Music Awards 2015.
QLD Business awards 2006, 2007 and 2009
About one show a week since 2006. How many is that?
OUR GALLERY
A picture tells a thousand words.